In-Person Training of FEMA E-74,
Reducing the Risks of Nonstructural Earthquake Damage – A Practical Guide,
in conjunction with the EERI 69th Annual Meeting
Tuesday, March 7, 2017
8:00am - 12:00pm
Portland Marriott Downtown Waterfront
1401 SW Naito Parkway
Portland, OR 97201
Cost: $35 (covers A/V and venue fees)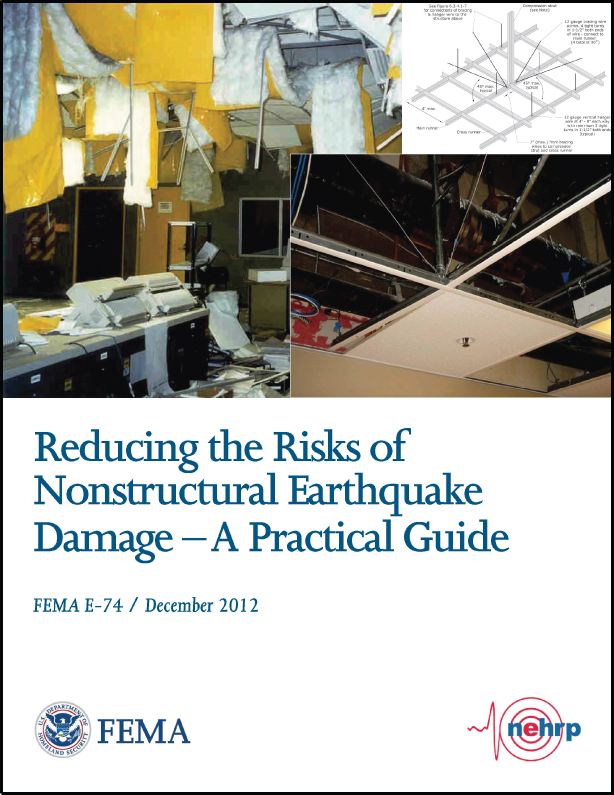 To register for the FEMA E-74 training ONLY, click 
here
. 
Purpose. Failure of nonstructural components—which include all components that are not part of the structural system, such as architectural, mechanical, electrical, and plumbing systems, as well as furniture, fixtures, equipment, and contents—has accounted for the majority of earthquake damage in several recent U.S. earthquakes. In many cases, businesses, schools, hospitals, and other organizations had to spend excessive time and dollars for clean-up and repair due to nonstructural failures, thus impeding continued operations and rapid recovery. Nonstructural component failures can impede safe evacuation, delay rescue, and cause additional hazards such as fire following an earthquake. The purpose of this course is to describe, in simple terms, the sources and types of nonstructural earthquake damage, as well as effective methods and guidance for reducing the potential risks of injury and property loss from future earthquakes.
Intended Audience. The intended audience for this training includes building owners, facility managers, maintenance personnel, store or office managers, corporate or agency department heads, business proprietors, risk managers, and safety personnel. Design professionals, especially those that do not have experience with seismic protection of nonstructural components, might also benefit from this training.
Recommended Pre-requisite. Prior to the training, it is recommended that participants view a 30-minute independent study training, IS-325, Earthquake Basics: Science, Risk, and Mitigation. The IS-325 training provides basic information on earthquakes, its impacts, and general mitigation techniques. The training may be accessed here.
| | |
| --- | --- |
| | Training Instructor. Michael J. Griffin, P.E. Griffin is a Principal and partner at CCS Group, Inc. in Chesterfield, Missouri and has over thirty years of extensive experience in the assessment of natural hazards - earthquake and high wind, for structures and nonstructural components, equipment and systems. He is considered an industry expert and has worked in the Midwest, west coast and Caribbean performing earthquake risk assessments and subsequent structural strengthening designs to mitigate the risk of buildings and nonstructural equipment and systems. Griffin served as a member of the Project Review Panel for the development of FEMA E-74, Reducing the Risks of Nonstructural Earthquake Damage – A Practical Guide. Griffin routinely provides training and education sessions to engineers, management personnel, and students in natural hazards and risk assessments. He holds both a Master and Bachelor of Science degrees from the University of California, Irvine and is registered as a licensed Professional Engineer in seven states. |
Contact. Questions about this training may be directed to Veronica Cedillos (This email address is being protected from spambots. You need JavaScript enabled to view it.; phone: 650-595-1542).
Registration Information.
This training is being held in conjunction with the
EERI 69th Annual Meeting
. Interested participants have the option to register for the FEMA E-74 training AND the EERI 69th Annual Meeting, or to register for ONLY the FEMA E-74 training.
To register for the FEMA E-74 training ONLY, click 

here

.

To register for the FEMA E-74 training AND the EERI 69th Annual Meeting, click

here

.
Handouts. Each participant of this training will receive an electronic copy of FEMA E-74, Reducing the Risks of Nonstructural Earthquake Damage – A Practical Guide. For additional copies, participants may request CD-ROM from the FEMA warehouse free of charge by calling 1-800-480-2520 or via email and refer to FEMA E-74. Expedited and international orders for the FEMA E-74 document on CD-ROM may be made through the ATC Online Store by clicking here.
About NETAP. Instructor services and expenses for this training are funded by the Federal Emergency Management Agency (FEMA) National Earthquake Technical Assistance Program (NETAP), which is a mechanism for delivering direct assistance to the public to increase their knowledge and ability to analyze their risk, make a plan, and take actions aimed at reducing their earthquake risk and supporting overall community resilience. NETAP serves as a critical resource that local, State, Territory, and other organizations can utilize to acquire earthquake mitigation training and technical assistance in support of community earthquake risk reduction and resilience activities. For more information about NETAP please visit the FEMA website by clicking here.